As a supply chain management solution ourselves, we believe that superior software can make a world of difference in your team's shipping experience.
But your choice of software can only optimize your supply chain if two conditions are met:
Your team has already laid a foundation to communicate and resolve problems together quickly and efficiently.
The shiny new software you choose helps facilitate that transparency and action even further.
When you have that magic combination, the best supply chain software can create a world of difference. Soon, you'll notice higher levels of communication between all involved parties across the supply chain, less misunderstandings, and more on-time and in-full deliveries.
(By the way, we've written an entire book on improving communication in supply chain management.)
Here are the most important elements you should look for in supply chain management software. They'll each help communication in supply chain operations go from pretty good to absolutely outstanding.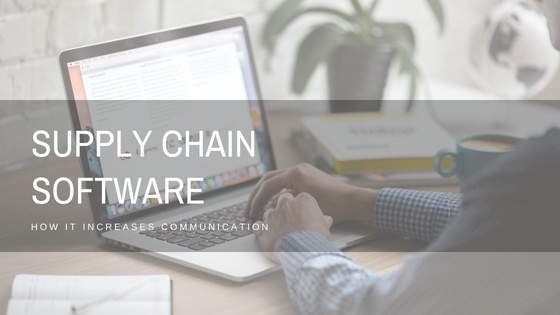 Research a Supply Chain Management Tool
A quality Supply Chain Management System (SCMS) can give tangible visibility across your supply chain. The one you choose may accomplish a few different tasks:
Streamline communication across your supply chain
Track shipments at the SKU level
Integrate with your existing systems
Provide data for regular performance metrics
Pinpoint what went wrong for orders that aren't on time
Here are some ways in which SCMS improves communication across your supply chain.
Consolidate Tools
Are you using MailChimp for emails on one team but ConvertKit on another? Trello and Asana? Gmail and Outlook? Bringing your team under one supply chain management tool will similarly streamline your operations and keep everyone on the same page.
Ideally, you'll choose a SCMS that all teams involved in the supply chain can rely on. Can accounting review quotes and payments? Can logistics track shipments and communicate with vendors? Can team leadership receive and review reports? If so, you'll go a long way towards keeping teams on the same page.
Have a Centralized Hub for Communication
Email, text, Twitter, voicemail, Slack, Gchat — do the different messaging platforms ever end?
When your team is communicating amongst themselves and vendors about a certain shipment, having a record of that discussion in the same place does everybody so many favors.
To address this problem, use a supply chain management tool that helps your team stay on the same page with in-shipment messaging. With Shippabo, for example, you can chat within each shipment and its respective involved parties. You can also make notes on each shipment for others to reference.
Share Accessible Documents
With centralized communication, the same needs go for documents. Attaching PDFs in emails or local folders but not having them shared in communal places will cause headaches when someone crucial isn't there to find them.
Using supply chain software to organize and share vital documents across your team will make a world of difference.
Bring It All Together with System Integrations
Your supply chain management software should also have the power to connect all the systems you already use to make your process more efficient. When you're able to integrate programs like Quickbooks, Sage, Netsuite, and EDITrade together, life will operate that much easier.
Make It Easy with Shipment Templates
Keep processes consistent by sharing shipment templates with your team and suppliers. Shipping templates help you repurpose a past shipment into a template to use again and again when kicking off new orders.
Back Up Your Data
Losing all your important documents is a nightmare scenario — and also entirely preventable. Use shared shipment tools and secure cloud backups to keep your company from such disastrous outcomes.
Go Paperless
Shipping is an old practice, but that doesn't mean you have to operate in the past. Go paperless where you can so that documents are centrally stored, easily shared, and not easily lost.
Manage Performance Reports
Supply chain management software should help you continually optimize your processes. Look for a product that easily generates performance reports so you can share them with your team and any other relevant third parties.
Want more tips on improving communication across your supply chain? Download our free eBook for 25 more ideas.