Internal logistics, finance, and operations teams. External shippers, freight forwarders, and carriers. Your supply chain can include a lot of parties.
As a result, 70% of respondents to this Geodis survey say their supply chain is 'very' or 'extremely' complex. Decentralized organizations, multiplication of inbound/outbound partners, and outsourcing external suppliers are all cited as top reasons.
This makes sense. The more parties involved in your supply chain, the more complex collaboration can feel.
Good news: There's a simple solution. Centralize your supply chain's collaboration. Better news: Setting in processes in place now will optimize your supply chain now and down the road.
Ask yourself the below questions to start centralizing your supply chain's collaboration.
If you want even more supply chain best practices, download our free eBook.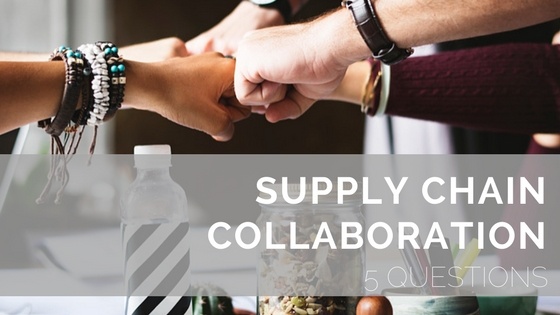 Supply Chain Collaboration: 5 Questions
Q: What can we automate?
Seventy-four percent of firms use more than four transportation modes within their supply chain. And almost 80% of firms work with one or several external suppliers. Supply chains involve a ton of moving parts. Automate whatever you can. It goes a long way towards keeping everyone up-to-date — without having to lift a finger.
Within Shippabo's supply chain management software, for instance, you can automatically receive in-app or email notifications. These auto notifications can cover anything from shipment schedules to U.S. Customs statuses and delivery confirmations.
Q:
What information does each party need?

Information overload can lead to confusion on team roles. Help each involved member of your supply chain understand what their role is.

First, audit every involved party. Then, determine what actions each involved party should be allowed to take and the information they should be allowed to access.

Ideally, your supply chain management platform helps you customize team permissions.
Q:
Where should we communicate?

Miscommunications can happen too easily. Someone responds to an email with a call. Or someone makes a decision verbally and doesn't communicate it to the team. Prioritize keeping all conversations in one place. Find a solution that allows you to communicate directly with your team and suppliers — so no one misses a beat.

Take Shippabo customer LootCrate. The worldwide leader in fan subscription boxes manages inbound shipments from 50+ vendors each month. LootCrate started using Shippabo's in-shipment messaging to communicate, make notes, and check on shipments — all in one place. Centralizing communication has played a role in expediting their processes and securing inbound freight on time.
Q:
Can we consolidate systems?

We've all been there: You need to open eight tabs and log into eight systems, just to complete one task. Those tasks can often take eight times longer, as a result.

Audit the systems your team knows and loves, from warehouse management to purchase order management and accounting software. Can any of these integrate with one another? If you have supply chain management software, does it integrate seamlessly with the systems your team uses?
Q:
What documents are we using?

Without a centralized place to keep documents, each party can end up using different versions of the same document.

Keep shipment processes consistent with templates. That way, any quote or shipment is created from the same place. And keep everyone on the same page by storing documents in one place. Ideally, you can easily search and share documents as you need them.

Want more tips on optimizing your supply chain? Download our free eBook.