To get deliveries from point A to point B, it takes a coordinated system of importers, exporters, and transport crews. Freight forwarding software acts as the glue holding this process together. Especially in the aftermath of the global pandemic, with supply chain issues remaining a hot topic, this software is more important than ever before.
With the right freight forwarding software, deliveries are tracked, shipments happen on time, and customers are satisfied with the results. However, use the wrong software — or no software at all — and you may find yourself with missing shipments, time-consuming tracking processes, and an overall poor customer experience. By investing in a strong freight forwarding solution, you can give your company a competitive edge.
In this article, we'll review what freight forwarding software is and how understanding and leveraging freight forwarding services can improve your bottom line.
What Exactly Is Freight Forwarding Software?
Freight forwarding software is a tool that freight forwarders and logistics operations experts use to track every aspect of incoming and outgoing shipments. Instead of doing everything manually, freight forwarding software helps you track information digitally and communicate that information with relevant parties. Ultimately, freight forwarding software is designed to save your team time and improve the delivery experience for all involved parties.
Freight forwarding software also reduces — and in some cases eliminates — room for human error. By tracking shipments at the stock-keeping unit (SKU) level, this software ensures that your team always knows exactly where each item is in the transportation process. This knowledge, in turn, helps you better communicate with customers, improve shipping estimates, and ultimately increase your capacity to nurture relations at each stage in the customer journey.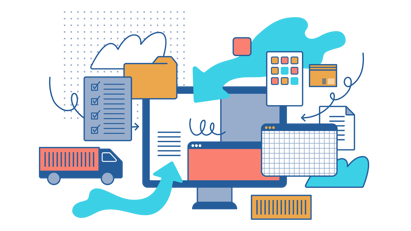 Key Capabilities and Functions of Freight Forwarding Software
Whether you're dealing with international freight forwarding software or local freight forwarding software, the key capabilities and functions of each are remarkably similar. The main goal of these software solutions is to make it easier for both logistics teams and network partners, such as suppliers to keep track of shipments. This includes:
Sending automated emails with real-time updates
Offering scheduled and customizable shipping reports
Tracking freight in real-time, down to the SKU
Providing customized views on shipments depending on the type of user
Automation and Real-Time Reporting
Automation and real-time reporting are at the heart of freight forwarding technology. With shipment reporting automation, your team doesn't have to send out emails every time a shipment gets an update. This level of automation is hugely beneficial for your entire supply chain network.
Your team doesn't have to slow down to individually track every individual delivery that's coming in. This means that freight companies can handle, transport, and track larger numbers of shipments at once.
SKU-Level Visibility and Shipment Tracking
An SKU is a unique set of numbers that helps retailers track goods as they move from one facility to the next. Good freight forwarding software includes freight tracking at the SKU level so you always know whether or not all of your products have made it from one facility to the next.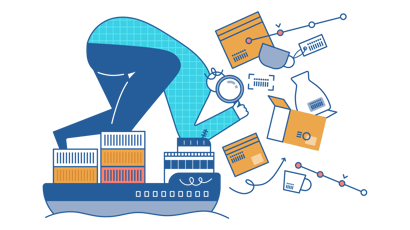 Additionally, with SKU-level visibility and shipment tracking, business logistics don't get in the way of the overall customer experience. And by making tracking accessible to your teams, you can cut down on the number of phone calls and emails your service team is fielding about shipment estimates. This can allow them to spend more time fielding other types of calls and keep your customers happy.
Integrations With Other Applications
Freight forwarding software can also integrate into your overall freight forwarding business. That's why the best platform can adapt to the overall needs of your logistics company. By integrating with other applications, freight forwarding software ties seamlessly into your current supply chain processes.
Companies that move products overseas as part of an international supply chain may especially benefit from freight forwarding software's integrations with platforms that can pull customs information. This can streamline your inventory and third-party logistics.
Additionally, by integrating with your existing documentation and notifying you about regulatory updates, this software can help you comply with import laws.
Simple User Interface and Dashboards
Convenience is the keystone of good freight forwarding software. The most effective platforms have a simple user interface that your team members can learn to use in an afternoon. The goal is not to bog your team down by forcing them to learn complicated technology. Instead, the goal is to speed them up by offering an easy-to-use and personalized dashboard that makes sense for each department or role while reducing their overall workload.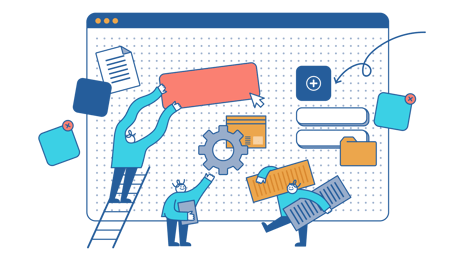 Customizable Documents and Reports
At every step in the supply chain, documents need to be created and delivered. You have a few different options for these documents. You can:
Create each document and report individually, listing products, prices, and other routing information so that your documents are as accurate and useful as possible.
Save time by using generic templates that don't contain personalized information but get the job done.
Use technology to create customized documents and reports quickly and easily.
Obviously, the third option is the ideal one. Freight forwarding software can generate templates and allow you to customize them as needed. This means that the general wording and layout of documents remain the same while the specific details — such as invoices due, products in transit, delivery dates, and more — are adjusted for each recipient.
Product Management, Optimization, and Tracking
With the best freight forwarding software, you'll have a dashboard for live visibility of your shipments. This dashboard will show you where your shipments are and allow you to filter them by factors like delivery date and status. You'll also be able to review shipment compliance, plus collaborate with all team members to manage inventories.
Why Importers Need To Leverage Freight Forwarding Software Today
We live in a fast-paced world. Products are constantly moving from one place to another while customers expect more and more from the businesses they work with.
Research shows that reducing or eliminating shipping fees is key to keeping customers happy. But if importers don't know how much it costs to ship products, they can't work those average fees into the overall costs. This can mean that shipping ends up cutting into their bottom line. Meanwhile, customers also have higher demands regarding the amount of time it takes for products to arrive — nowadays, over half of all customers expect items to arrive at their door within three days.
By leveraging the right software, your team can meet these growing customer needs and expectations and provide a stellar customer service experience.
Of course, not all freight forwarding software is created equally. Before choosing to work with a freight forwarding software team, ask critical questions and evaluate whether the freight forwarder is a good fit for your team. The right software will help you improve accuracy, streamline your workflow, and meet changing customer demands.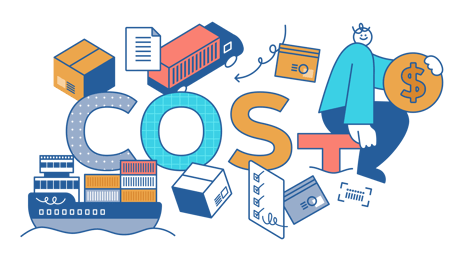 Increases Accuracy of Shipping, Inventory, and Cost Predictions
One of the greatest pain points for logistics companies is understanding the user fees they may encounter on a daily basis. Different locations or modes of transportation may have hidden fees that the shipping costs you charge your customers don't cover. At that point, your only option is to cover those extra freight costs yourself, which cuts into your bottom line.
On the other hand, if you use freight forwarding software, complete with route and mode planning, you can predict these extra fees ahead of time. This means that you can charge more accurate shipping fees or adjust the prices of affected products accordingly. As a result, you have a better prediction of your actual costs, improved shipping fee calculations, and more control over your company's overall costs.
Streamlines Current Workflows and Processes
A normal workflow for shipping a product might necessitate lots of manual checks and reporting, which can be especially problematic when there are blockages along the way. With freight forwarding software, you can smooth out the shipping process and be better prepared to deal with obstacles.
For example, a shipment process may include container and product updates. At each step, the freight forwarding software helps notify those responsible about issues or delays so they can plan accordingly and ensure it gets to the foreign country's warehouse smoothly.
With freight forwarding software, instead of drafting new documents and sending updated information at each stage in the process, your shipping team just needs to check in to the application. The information updates in the system automatically, sending out any relevant notices to the right people without extra work on the back end.
Your sales and operations team can also check online at any time to see where the product is. Additionally, they can make accurate pricing estimates by planning the shipment's route ahead of time.
Keeps Control of Your Inventory
Meeting the demands of your recipients is a hard process. Inventory tracking allows you to plan ahead and meet changing expectations. With the software's visibility tools, you can control what products to put on sale based on what you have in your inventory, and even plan for major events and sales like Black Friday.
With inventory tracking, your team can track which goods you're running low on, which you have too many of, and how often those products are being purchased. Keeping your inventory stocked is no longer a guessing game — instead, you can get ahead of many shipment delays by planning in advance for the goods you need to have stocked. Higher visibility of your inventory will help you improve efficiency and meet customer expectations.
Overcomes High Fuel Costs and Environmental Concerns by Optimizing Transportation Routes
There are a number of reasons to optimize transportation routes.
One reason, of course, is to save money. Optimizing transportation routes can give your team some control over shipping costs, allowing you to reduce costs for your customers without eating away at your profits.
But there's another major reason to optimize transportation routes: the environment. Transporting goods leads to fossil fuel use and increased carbon emissions, which can have a major environmental impact.
This is particularly important because customers care about companies' sustainability records. Research shows that customers expect the brands they work with to address climate change and make adjustments to their business practices accordingly. Optimizing your transportation routes is one way you can show customers that you care and are trying to make a tangible difference.
Freight forwarding software helps you plan transportation routes and choose the routes that are most cost-effective for your brand. This works best when you work with a vendor — like Shippabo — that provides both the software and expert advice on strategies for the best shipping methods. Not only does this combination mean that you can limit spending on shipping and reduce environmental impacts, but it also means that your products can arrive faster.
A Robust Freight Forwarding Solution To Handle Any Supply Chain Challenge
When you have major supply chain challenges, it makes sense to tackle them with a robust solution. Investing in freight forwarding software saves your team time, stress, and money. In turn, the investment allows you to meet your customers' ever-changing list of demands. And by meeting those needs, you improve the overall customer experience, increase the number of loyal customers you receive each year, and ultimately scale your business.
---
Shippabo was started by shippers. From day one we've built our business understanding the needs of supply chain teams. Our machine-learning platform integrates with your supply chain network to help you make the right decisions at the right time with predictability and visibility other freight forwarders can't provide.
Book a shipment today, and learn why Shippabo is the right solution for your business.