Before you look outward to improve communication across of your supply chain, you'll need to start at its core: Your shipping and logistics team.
According to a study by the McKinsey Global Institute, productivity improves 20-25% in organizations with connected employees. Your shipping and logistics team needs to collaborate with accounting, operations, sales, and product teams to ensure everything is running smoothly.
In order to do that, start with these first steps to build rock-solid business communication across all internal teams.
These ideas — and more — are in our free eGuide. Download it today for tons of tips on improving communication across your supply chain.
Improve Internal Communication in Supply Chain Management
As a member of your shipping and logistics team, you're the centerpoint of a multitude of involved parties. Here's how to lay the foundation for streamlined communication across the business — so you can focus on optimizing your supply chain, not playing the role of messenger.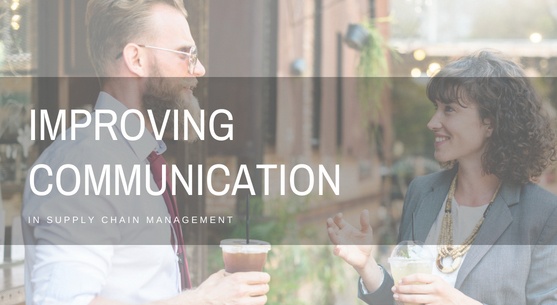 Communicate Your Priorities
The number one way to improve company communication? Share your top priorities clearly and regularly.
The ideal shipping process should allow a business to be efficient in their inventory turn and able to increase visibility and pre-planning capabilities.
You can do this by selecting a few key performance indicators (KPIs) and measuring them on a weekly and monthly basis. For the shipping industry, some of those KPIs could include:
Customer satisfaction
Service/on-time delivery
Safety
Inventory turn
Shipping costs, broken down by unit costs
Revenue in terms of every container's revenue
Cost per unit/total landed cost
Product damage/claims
When your team are all on the same page about what's most important, they'll learn to prioritize KPIs with your vendors and other third parties.
Share Key Metrics with Your Core Team
Once you've selected KPIs and collected data on them, share those core metrics with your team on a regular basis to improve your company communication.
For example, your shipping and logistics team may collaborate with business intelligence or other internal tools specialists to build out a digital dashboard that's easy for people to read and access.
Doing so will also help you flag when problems are happening early, communicate those problems to your team, and fix them promptly.
Find Supply Chain Management Software
Supply chain management software (SCMS) has the power to take your communications from pretty good to absolutely outstanding. Look for features like in-app messaging, seamless integrations with other platforms, the ability to take notes on shipments, and the ability to share reports. We wrote more about finding great supply chain management software here.
Have Clearly Defined Responsibilities
As award-winning global business leader Tammy Erickson put it, "Collaboration improves when the roles of individual team members are clearly defined and well understood."
Make sure that when your team members start, and as relationships with third parties shift and evolve, each person is clear on what their role entails.
For example, who manages which specific vendor relationships? Who speaks to whom when something goes wrong, and when? Between managing suppliers, manufacturers, assemblers, and retailers, there are a lot of moving parts to oversee internally. Ensuring internal role clarity will greatly improve your communication across your supply chain.
Map Out Your Information Flow
Once you've clearly define your roles, map out an information flow that shows the flow of your supply chain and who is responsible for reaching out to which parties. Not only will this clear up confusion internally, but it will also offer a more regular and predictable business communication for third parties.
Now that you've got your solid company core, build on it with our 30+ communication tips. Download the free guide here.
Train a Competent Team
If your shipping and logistics team isn't adequately prepared or trained, the heart of communication between your vendors and other parties in the supply chain will quickly collapse.
As you strengthen your team's preparedness and resilience to unexpected events, you'll find that your supply chain is strengthened and more resilient to setbacks as well.
One crucial way to strengthen communication: employee training and development. And according to a study by ClearCompany, 76% of employees are looking for career growth opportunities.
Through processes like team training and employee development, here's how you can boost communication in the workplace and fortify your supply chain.
Create a Solid Onboarding Program
A solid onboarding program for your employees is crucial to their success and the success of the company as a whole.
In fact, according to SHRM, new employees who attend a well-organized onboarding program are 69% more likely to stay at the company for up to three years.
For your company, that means less re-training and more time learning, retaining, and sharing information on the complex ins and outs of your supply chain.
Train Employees on Your Communication Plan
Do you have a plan in place when there's a lapse in communication across the supply chain? Train employees on who should be speaking to whom and when. That way, employees can identify when and where something broke down.
For example, say that your freight forwarder picked up your containers, but the container didn't arrive at the port. With a map of the supply chain flow and a communication plan for who to talk to, your employee would be able to figure out on their own that something happened at customs entry and talk to the necessary parties from there.
The better your team communication plan is, the less your employees will have to rely on you when there's a hiccup in the supply chain.
Practice a Simulation (or Two)
Your vendor just went out of business. The shipment you expected will be delayed for two weeks. A boat full of your cargo just sank to the bottom of the ocean. What will you do?! Simulations will help improve employee communication during critical situations.
Have a Post-Mortem When Something Goes Wrong
We're human, and we all mess up from time to time. When something goes wrong, have team leads hold a no-fault post-mortem that looks at the problems factually and figures out productive ways to prevent them from happening in the future.
Improving communication around accidents will help them from happening again and also help people learn from other team members' mistakes.
Looking for more tips on training a team? Download our eBook.
Build Out Better Processes
Once you've established a solid company core and trained a highly competent team, building out better company processes is the next logical step.
That's because having best business practices on hand will improve your company's supply chain in more than one way. For example, your team will be capable of making autonomous decisions faster if they already know the protocol.
Your team will also spend less time asking for help, allowing you to focus on the bigger picture tasks that really matter. Here's are some ways to boost organizational transparency and help your company keep the eye on the ball.
Share Plans for Peak Seasons
When you know your peak seasons are coming up, don't wait to inform your internal team and shipping partners about the increased demand.
Every industry is different, but peak seasons for U.S. companies importing from Asia are usually early Fall and around Chinese New Year.
Forecast what your peak seasons look like and facilitate organizational transparency months in advance, so your team won't scramble at the last minute.
Have Alternative Plans in Place
You already know Murphy's Law: anything that can go wrong will. You can't prevent it all, but you certainly can plan ahead. Have best business practices for common problematic scenarios, and you'll save your team a scramble.
Make Transparency in Business the Foundation
Knowledge is power. Your team can only make informed decisions if you make a point to inform them. There are plenty of ways to make organizational transparency a company foundation.
Start out with these ideas to promote a free flow of information and improve communication across your supply chain:
Send out weekly status updates on progress, blockers, and upcoming projects
Share information in stored communications when incidents occur so everyone on your team is up-to-date
Share company KPIs and inform all team members of the company's quarterly goals
Hold weekly or monthly All Hands meetings and allow people to ask questions for clarity
Arrange interdepartmental activities such as lunches or drinks to further open lines of communication
Share a Game Plan
Do you have a special order coming up that doesn't call for the usual protocol? Share a best business practices document with your team so they don't accidentally slip up on the process or timeline.
Ready to take your supply chain communication to the next level? Download our free guide.