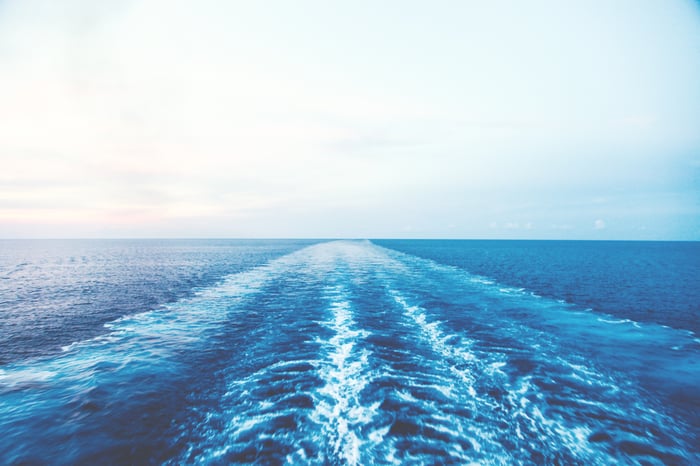 Achieving supply chain visibility has risen to the third most important strategic priority for businesses in 2017 from the sixth in 2015, according to this Geodis survey. But only 6% of organizations believe they've achieved complete supply chain visibility.
So, what does visibility in your supply chain mean exactly? Why is it important? And how can you improve it across your supply chain? Read on for an overview.
What is Supply Chain Visibility?
Supply chain visibility occurs when you and all involved parties have access to the transactions, events, and other applicable shipment data across your supply chain. Ideally, that visibility extends to each stage of your supply chain: from moving a product or service from the supplier, to your distribution center, to your customers.
Why is Supply Chain Visibility Important?
Supply chain visibility gives you real-time access to the information your business needs to excel. With that visibility, you can pre-plan according to your shipment statuses — achieving maximum inventory efficiency as a result.
You can then focus on scaling your operations and driving your business forward, rather than on securing the shipment information needed to operate.
Take Technicolor, a Shippabo customer. The global entertainment company was able to create ongoing, scalable shipment processes, with reduced risks in delay and better documentation of all transactions.The result: a reduction in overall freight spend by approximately $150,000 per annum.
PS — Want even more best practices on optimizing your supply chain? Download our free eBook here.
How Do I Easily Improve Supply Chain Visibility?
There are myriad ways to achieve end-to-end visibility. Here are five simple ways help you get started heightening your supply chain's visibility.
Communicate Shipping Progress Across Internal Teams
Having a streamlined way to share shipping progress across your entire internal network is one of the best ways to improve SKU-level visibility.
That way, everyone from your logistics team to your sales or accounting teams have similar visibility into their data. SKU-level visibility also gives you a better picture on what you're spending, so your teams can make better purchasing decisions down the road. This could be a solution like Shippabo, or a combination of shared documents and consistent communication between teams.
Keep Open Communication With Suppliers
Maintaining close communication with your suppliers is just as imperative as communicating internally. Every business has different needs, operates a different way, and has different measures of success.
Suppliers can't predict your business's needs until you clarify your requirements and expectations. So set your expectations upfront. You'll increase suppliers' visibility into your own operations and expectations. Here are two ways to do so:
1. Set expectations with vendor guidelines. We recommend that, at the very least, your vendor manual include:
Packaging instructions
Sampling instructions
Testing instructions
Contact list: Who to contact and when
Booking instructions: How to book containers, air shipment, ocean shipments, etc.
The process for getting paid and submitting necessary documentation
How to use the product (include information on specs, labeling, and brands)
2. Ask For a Production Schedule. This is outside of shipping, but is very helpful. Ask suppliers for the production schedule ahead of time and set up a regular check-in process.
We've outlined more best practices for optimizing your supply chain's communication in our eBook. You can download it here.
Set Up Regular Reporting
First, listen and understand. Go to each internal team involved in your supply chain, from your logistics team to your finance or operations team. What information do they each need to achieve efficiency in inventory turn and pre-planning capabilities?
Then, set up a regular reporting process that provides all the needed information. This reporting process could be weekly, monthly, or perhaps based on your organization's shipping schedule. Whatever the cadence, make sure its regular and ongoing.
Perhaps most importantly: Ensure every team has access to the data. And check in with each team regularly. Are they getting the information they need? How is performance? Can something be improved?
At a bare minimum, we recommend that shippers and importers regularly report on:
OTIF rate (or On Time and In Full rate), ideally listed by vendor
Inventory turn
Cost of goods broken down by product cost, shipping cost, and any increases or decreases
Revenue, broken down by each container's revenue
Don't Underestimate the ASN
Advanced shipping notice (ASN) is a document that provides detailed information about a pending delivery. The purpose of an ASN is to notify the customer when shipping occurs and provide physical characteristics about the shipment so the customer can be prepared to accept delivery.
Your ASN helps recipients pre-plan their inventory. Invest as much time as you can to gather or request all information on your shipment at this stage. Doing so will ensure everyone has access to the same detailed information about your shipment.
Some important details to include in your ASN:
Bill of Lading (BOL) number
Estimated In-DC date
Shipping method
Shipment contents
Purchase order information
Contact information for shipping parties
Transit schedule
Shipment dimension and weight
Aggregate Shipment Data Onto One Platform
Lastly, consider digitizing your entire shipment workflow within one platform. You and your team will be able to access shipment details in a few clicks, aggregate and organize your data, and easily share relevant information with the right people — all of which goes to say, you'll achieve supply chain visibility.
We built Shippabo because we believe in the power of shipping transparency to drive your business forward. To help you optimize your supply chain's visibility, we've built an integrated, cloud-based solution that you and your team can use from anywhere.
Want to learn more about Shippabo and how we can help?