In honor of celebrating Women's History Month, we sat down with our CEO, Nina Luu, and talked about how empathy plays a huge part in our vision, mission, and values. "Empathy is important in leadership as well as everything within the company. It allows us to build diversity because we're willing to listen and understand team members, generating ideas and hypotheses to make our business different from others."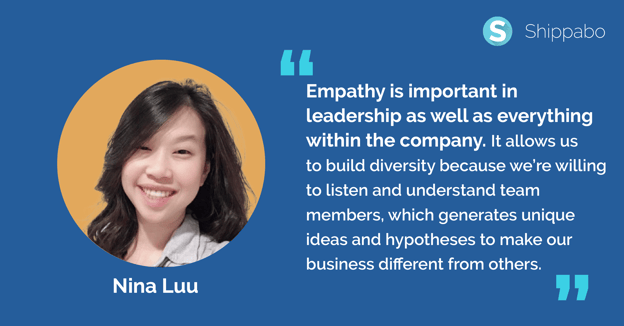 Our Operations Manager, Virginia Garcia-Weprin, shares her advice for women, especially in the startup industry. The key factors are confidence and self-trust. "You don't need to wait for approval from others to have confidence; you need to earn it yourself. If you're empathetic, you're more likely to be grounded and be able to see past your own mistakes. Without it, you would not recognize your own potential and the team's possibilities around you."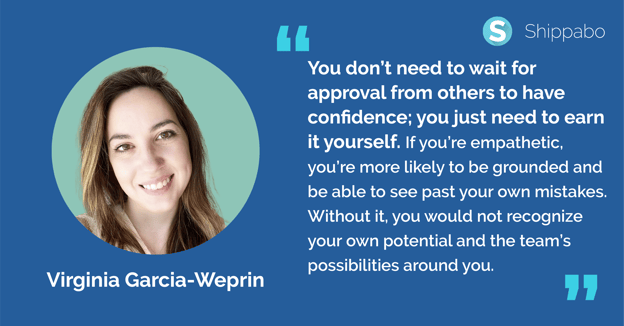 As we look to the future of Women's History and not just the past, we turn our focus to allyship actions like advocacy and mentorship. We interviewed our Marketing Manager, Melvie Gabriel, on how she prioritizes mentorship with her team. "A good mentorship comes with encouragement, appreciation, and uplifting the spirits of your team members. We encourage each other to speak our minds and voice out ideas - this is how we continue to learn from each other."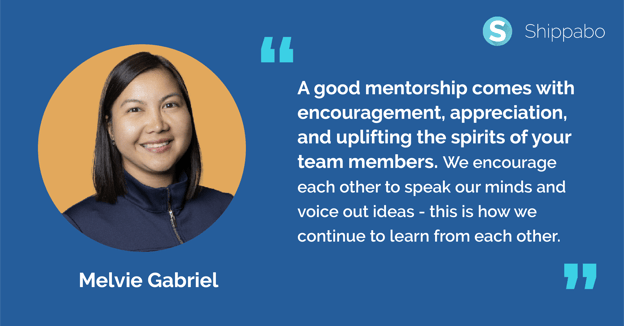 Coming from a French background, our People Operations Manager, Aurore Ollivier, shared her experience as a driver of change for a start-up company in the States. "As a leader, you have to think about yourself and your team constantly. It's crucial to deliver and receive feedback to help us become better at what we do as a start-up. As a company, we want people to come and work for us. Still, we also owe it to them to grow and be present for them." She credits the CEO of Front, Mathilde Collin, as her inspiration for leading by example in "letting her colleagues know what's on her mind." "Prioritizing work-life balance leads to increasing productivity" is something Front believes, and Ollivier similarly considers paramount for Shippabo - one of the secret sauce ingredients.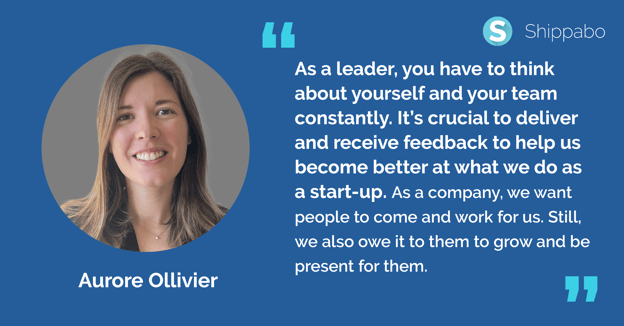 "In both 2019 and 2020, the total percentage of women in the supply-chain workforce was 39%. That's an impressive percentage compared to decades past, but it means women are still in the minority. The gender disparity is far more exaggerated when looking at women in supply chain management roles.
In 2020, 17% of chief supply-chain officers were women, meaning that more than four out of every five chief supply-chain officers are still men… Though men and women do not all fit neatly into common ideas of gender stereotypes, most people believe women naturally offer different skill sets than their male counterparts — skill sets that can be advantageous in the professional world and logistics. One study found that 74% of men and 96% of women believe that women's skillsets benefit supply chain management. These skills include multitasking, collaboration, communication, and influence… Changing the tide to be more gender-inclusive in logistics will take time, but it's a goal worth pursuing (source)". We at Team Shippabo couldn't agree more, and there are so many more amazing women within our company who shape what the future of shipping and logistics looks like.