From the desk of James Ford-Hutchinson, VP of Supply & Strategic Partnership for Shippabo
It's first important to understand what drives ocean freight rates. Ocean rates are a great example of supply and demand forces at work. Unlike other industries, demand for ocean freight is non-elastic. When elastic, demand changes based on price. For example, if a movie ticket costs $1,000 very few people will go, but as you lower the price, more and more people are willing to buy tickets, and in turn, demand increases. With ocean freight, lowering price does not increase demand as it is driven by consumption in the US.
The impact is that when supply exceeds demand, ocean carriers chase the rates down as they compete over the same number of boxes, and they try to achieve a high utilization as this is the primary way to reduce their fixed costs on a per unit basis.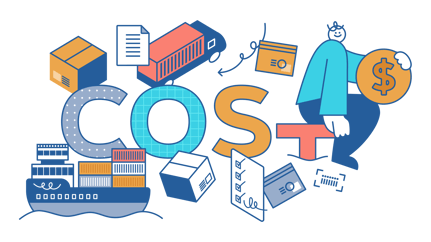 So, what is happening with supply?
In the past year, supply was reduced due to congestion—vessels were tied up for weeks outside the ports and could not be used to move additional cargo. As this congestion has gone away, the amount of supply in the market has increased. Global congestion peaked back in January 2022 and has been decreasing ever since. While carriers have been implementing and announcing blank sailings, it has not been enough to rebalance with demand.
Where is demand going?
Global demand started to trend negative as far back as September 2021. Recent data from Descartes showed a 12% plunge in total US imports for September versus August and there is a lot of uncertainty on when demand will pick back up. Lunar New Year is very early this year, in late January, and market feedback is that many factories will close as early as January 1, 2023. This lack of demand will only put more pressure on the carriers and rates. The open question is, what will happen post-Lunar New Year, will importers have to rebalance US inventories and need to replenish, or will there be a slowdown in the US economy?
At the recent Port of Charleston conference, Lars Jensen predicted that there would be a hard landing on rates with an upward bounce post-lunar new year. While there is a lot of uncertainty, this prediction does not seem far off. While carriers are increasing the number of blank sailings, there continues to be flat to negative demand and more capacity returning to the market as congestion continues to dissipate.
Game theory and economics says that carriers will continue to lower rates and eventually they will go back to a zero economic profit. If we look at history, during the last financial crisis, we saw some carriers pull capacity, while others chartered cheap vessels and remained fully deployed. The impact was that once supply and demand rebalanced, rates increased, and the carrier who was fully deployed reaped the benefits, while the carrier who pulled the capacity absorbed the capital costs to the benefit of their competitors. Following this, neither carrier pulled capacity when demand dropped again and instead started a price war, resulting in major financial losses for all carriers.
There is a lot of uncertainty and 2023 is going to be an interesting year. There are almost seven million TEUs of new capacity coming into the market, but there is also an indication from carriers that 10% of the global capacity will be reduced due to the new IMO 2023 rules. However, some publications such as Alphaliner believe this is overstated and the impact will be far less.
In summary, I think we can work with the certainty that we will see lower ocean freight rate costs in 2023, with a strong possibility of them returning to pre-covid levels. The biggest risk for importers is if rates drop too low, resulting in carriers over-adjusting capacity, and the pendulum for supply and demand swings too far the other way. The impact of this will be a sharp increase in rates, but the bigger impact will be not having enough capacity— and if you cannot get space, then you cannot get it to market and in turn sell your product.
Shippabo was started by shippers. From day one we've built our business understanding the needs of supply chain teams. Our machine-learning platform integrates with your supply chain network to help you make the right decisions at the right time with predictability and visibility other freight forwarders can't provide.
Book a shipment today, and learn why Shippabo is the right solution for your business.