From the desk of James Ford-Hutchinson, VP of Supply & Strategic Partnership for Shippabo
We continue to see weak cargo demand, which is resulting in the continued rate reduction in ocean freight from carriers.
The impact of the dropping market can be seen in the ocean carriers' financial results and their 2023 forecasts. They are announcing record outcomes, with the fourth quarter seeing exceptionally large drops. Carriers are warning investors that results will even be significantly lower in 2023. Maersk recently announced that they expect 2023-2024 long-term rates to be close to current spot rates, but most of the remaining carriers are not providing any comments until they finalize long-term rates with major retailers. While carriers reduce rates to win business, freight forwarders / NVOCC profit margins are also under pressure - with feedback that some are selling as low as $50 below costs.
Partners indicate that factories will reopen and resume production in the coming week. Asia to USWC rates already knocked the bottom out, falling to an average of $1,200 per 40-ft container in the second half of the month. USEC has a slight adjustment to average $2,500 per 40-ft container. The current market consensus is that there will be little change in rate levels until booking volume begins to pick up again in March.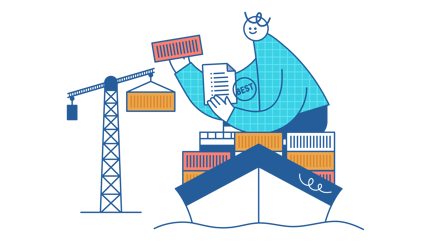 Shippabo was started by shippers. From day one we've built our business understanding the needs of supply chain teams. Our machine-learning platform integrates with your supply chain network to help you make the right decisions at the right time with predictability and visibility other freight forwarders can't provide.
Book a shipment today, and learn why Shippabo is the right solution for your business.